Name: Sally
Nicknames: Sall
Gender:Female
Age:19
Creature Type:Doll
Height and Weight:About 5'1
Skin Tone:White
Hair:Pure White
Eyes:Black
Appearance*: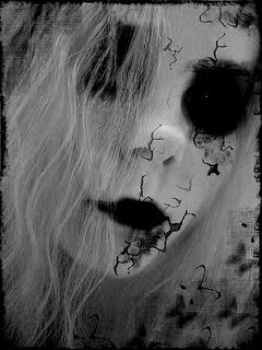 Personality*:Sally is quite a bit of a loner. She likes to stay by herself so that she doesn't have to interact with others. She might be taken as a bit of a creepy person, despite being a doll. When it is time to scare, however, Sally will put on quite a show.
Talents: Besides the obvious scaring and being creepy, Sally is actually good at painting. She only paints in black paint but it still comes out magnificently.
Flaws: Sally cannot move likes normal people or dolls do. Her limbs move kind of like a slow moving, rusty robot. They kind of twitch when she is standing still.
Weaknesses: Sally is very un-trusting. She won't believe anyone until they prove it. Also, she can sometimes have too much pride. She won't ask for help in anything because she believes it makes her weak.
Strengths: Sally is very protective. If she does make a friend, she will do anything and everything to protect them. Also, she works well and productively under pressure.
Pets(optional): Sally came with a little cat and it has now turned into a bit of a clock work kind of animal.
Weapon(optional):
History*: Sally was bought in a toy store in 1995. At the time, she had blonde hair, bright blue eyes, and a pink frilly dress. Life was good with her owner, Becka Smith. They played each and everyday. Though, it all took a turn for the worst when Becka decided she was too old for Dollies anymore, and threw Sally away. Sally was extremely devastated. She lay in the garbage for years. In that time, her hair turned white, as did her skin. Her eyes came out, leaving dark holes. Her dress lost it's frilliness and pinkness. It became ripped and faded, and hung on her loosely. She sought her vengeance and haunted Becka for a while. However, that Halloween when all the creatures came out giving free frights, they took in Sally. She has lived there ever since.
Last edited by NerdyLonerJaz on Mon Mar 24, 2014 4:18 am; edited 1 time in total